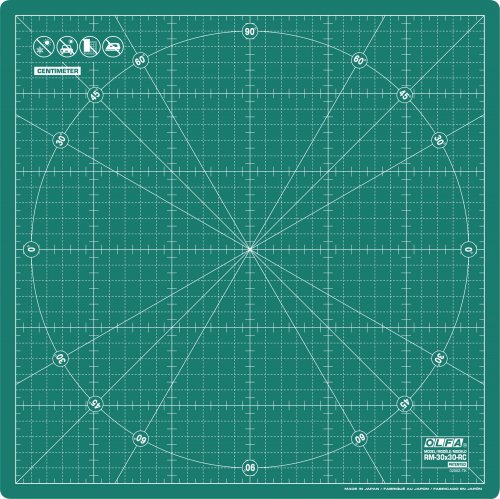 RM3030

Self-Healing Rotating Cutting Mat 30cm Square
The OLFA® RM-30x30-RC Revolving Mat is the ultimate, multi-purpose craft mat. Made using the finest materials, it's highly durable and practical. Its surface is soft enough to protect the blade used but hard enough to prevent deep incisions, enabling the mat surface to self-heal. Most cutting mats on the market have a hard surface. This sort of surface would quickly blunt tools coming into contact with it and leave cut lines affecting the efficiency of all future cuts.
The RM-30x30-RC mat works with all OLFA art knives, standard-duty, heavy-duty, rotary, and speciality cutters. It prolongs the life of a blade and protects the work surface underneath. This double-sided 30 x 30cm mat also comes with an easy-to-read grid and measurements featuring an imperial grid (inches) on one side and a metric grid (cm) printed on the reverse side.
Its bottom layer is non-slip with an interlocking top cutting mat that rotates a full 360 degrees; effortlessly cut out shapes that require turning, such as squares, circles and triangles. This key feature also eliminates the need to move the cutting object and reduces potential hand fatigue, and limits the chance of making any unwanted cuts.
All OLFA cutting mats are resistant to splitting and cracking when used correctly and ensure a long product life. Both eco-friendly and DEHP-free, they are also kind to you and the environment.