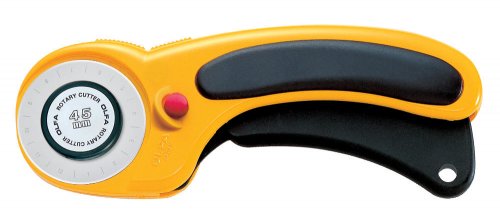 RTY2DX

Deluxe Ergonomic Rotary Cutter 45mm
The OLFA® RTY2DX is an advanced rotary cutter, designed with comfort in mind. The durable ABS plastic body is shaped to fit your hand well, and the rubber grip absorbs pressure as you cut tough materials, reducing hand fatigue over periods of prolonged use.

The cutter features a dual-action safety lock button that allows you to retract the blade in and out by squeezing the lower grip, or also fix it at a single position. Once the blade eventually blunts, it is quick and easy to change.

The rotary cutter comes pre-loaded with a sharp and long-lasting ENDURANCE™ rotary blade that can cut through several layers of various materials including paper, textiles, leather and more.

Accommodates left and right-handed users.