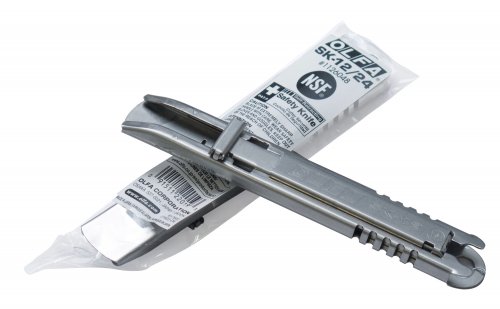 SK1224

Sk-12 Ss Nsf Approved Self-Retract Knife Bulk Pack of 24
The OLFA SK-12 is perfect for use in environments where hygiene is essential.
OLFA's SK-12 Stainless Steel NSF Approved Self-Retracting Safety Knife has several unique features which solve the three common problems found within the food industry (injuries, metal detectability, and sanitary supervision).
Its self-retracting blade effortlessly cuts through numerous materials (foil, plastic, cardboard, etc.) and prevents workers from getting injured.
Complete with a stainless-steel body and blade, it's easier to detect with a metal detective machine than a plastic-made body.
It's NSF approved and can easily be washed and sanitised with sodium hypochlorite.
It also comes with a space on the handle (where a management number can be engraved) and features a tool-free easy blade change system.
For best value, purchase a bulk pack.