Birth of OLFA Cutter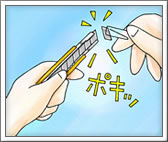 In 1956 Mr.Y.Okada, the founder of OLFA CORPORATION, invented the world's first snap-off blade cutter.
The inspiration for this incredible idea came from breaking off segments of chocolate bars and analyzing the snap edges of broken glass. This unique invention has since become a worldwide best seller and is commonly referred to as an OLFA CUTTER.
The length,width and angle of the blade, established by Mr. Y. Okada, has become the worldwide standard for the snap-off blade. Now let us see the story of the birth of the OLFA cutter.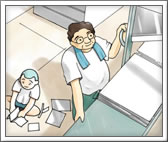 Before World War II, the Okada family was running a paper cutting business in Osaka. The oldest son, Yoshio, grew up in such an atmosphere.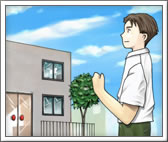 After the war, Yoshio held several jobs and then started working in a printing company.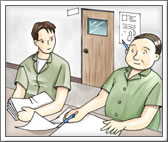 In those days, workers in printing companies used to cut papers with knives and razor blades.
Japanese-made knives get dull so easily. Throwing the razor blade away is very wasteful.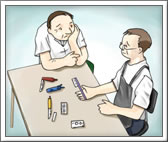 Yoshio thought about an knife that would be useful for his job.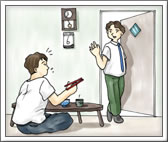 His brother, Saburo who was working for another printing company, came to see Yoshio. It seems he had the same problem.
Saburo : Yoshio, do you know a good long lasting knife?
Yoshio : You're looking for that, too. So was I.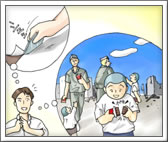 A piece of glass and a chocolate bar given by an American soldier. A bright idea hit Yoshio.
Yoshio : I've heard that craftsmen in the old days used to cut materials with the edge of glass pieces.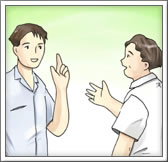 Yoshio : How about a blade which can be snapped-off like a chocolate bar?
Saburo : That's an excellent idea!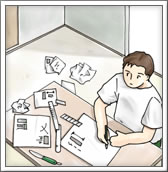 Yoshio started to make a prototype. He spent many nights undergoing many trials and errors.
Yoshio : What would be the best blade size, the best angle of the diagonal grooves and the best depth of the grooves?
Yoshio : A blade sliding type would be safer and more convenient than a folding type.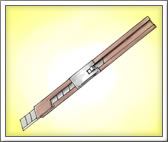 Yoshio solved these problems, and finally the world's first snap-off cutter was created in 1956.
Yoshio : I've got it!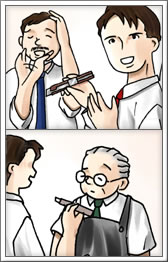 Yoshio attempted to sell the revolutionary idea to many companies.
Yoshio : Will you purchase this idea?
You can't make money with such a strange thing.
No, no. It won't sell well.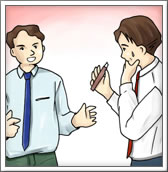 Saburo : If no one buy this idea, let's do it ourselves.
In 1959, Yoshio founded OKADA & Co.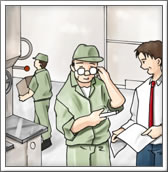 He spent all his money to produce the first 3,000 knives.
Aren't 3,000 knives too many?
But each of them was different in its quality and size, because they were all hand-made.
Yoshio : We've got a big problem. We have to standardize all of them.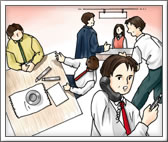 They tried to sell the cutter knives everyday.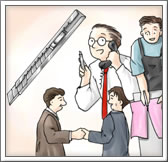 The cutter knives finally began to sell when they were displayed in stores.
This cutter knife works so well.
It really cuts like a dream.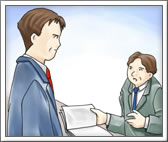 Because they were short of money, they asked one of their clients to join them in business.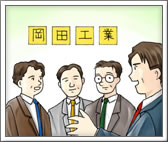 Their sales increased, but in 1967 Yoshio started to manage the company by himself because of a disagreement about management.
Yoshio : From now on, we four Okada brothers will run OKADA KOGYO CO.,LTD.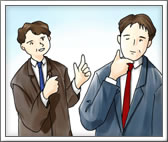 Yoshio : We need a brand name for our original cutter.
Saburo : How about OLHA, which means "breaking a blade" in Japanese?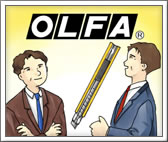 Yoshio : But they don't pronounce the "H" in some foreign languages. Let's go with "(OLFA)", instead.
Saburo : Let's make the color of the knives yellow like egg yolks. It's a warm color.
Yoshio : Yeah! That's it!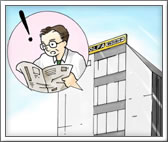 In 1971, the Okada brothers established their headquarters in Osaka. Their export business also started to grow.
Listen! A major American hardware manufacturer is entering into our cutter knife market!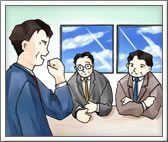 The patent of the snap-off blade is valid only within Japan. What should we do? Yoshio : The fact that the American company is coming in means our products are promising. Surely the OLFA cutter will be in great demand.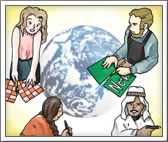 Later on, they expanded facilities and actively invested in advertising their products. Their sales grew steadily.
Today their company is a leading manufacturer of hand cutting tools in the world.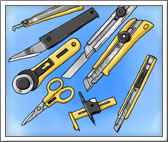 In 1984, the company changed its name to OLFA CORPORATION. The size and angle of the OLFA blade are now accepted as the world's standard.